お知らせ Announcement
The final deliveries by ourselves Oct 12 (Thursday) this week! 
We are outgrowing the current commercial kitchen,
and working hard on other ways to serve you, including a store-front and 
on- demand using a third party. 
Stay tuned!
 
Please order early! 
Order site may close before 
the deadline Oct 11 (Noon) 
UDC Farmers Market Every Saturday 
9am – 1pm
Until Nov 18 (Sat)
"This Week's Menu"
https://view.flodesk.com/emails/6523cbb76d16a33887b13273
We now deliver to the Rockville area!
No pop-ups at Chevy Chase Farmers Market in April.
【#WoodmoorEats:  Lunchtime Drops on Oct 12 (Thursday)】
ANNOUNCEMENT
Place your order at:
https://harmonious-kitchen-online-order.square.site/
Please type

"212 Whitmoor Ter., Silver Spring"

in the address section and

use the coupon code "WoodmoorEats" for a $6 discount.
PICKUP ADDRESS
Oct 12 (Thursday) pickup
Place your order before 12pm Wed (Oct 11, Wednesday)
Pick up 12pm – 1pm at 212 Whitmoor Ter., Silver Spring
Oct 12 Contact: Rumi Clark: (541) 653-7190 (cell)
If you want to cancel or change your order, please email to
harmoniouskichendc@gmail.com
We are located in front of the student center.
Happy to report that products sold out every week. Please come early!
4200 Connecticut Ave NW Washington, D.C. 20008
(Van Ness-UDC Metro Station)Easy access by Metro Red Line
---
【Announcement about Our Thursday Delivery】
First and foremost, thank you for your continued support! We decided because the number of Thursday orders is declining – perhaps many of you are no longer working from home. It was not an easy decision for us because we do know many of you have been so good to us, ordering on a regular basis, almost every week. On the bright side, we've started receiving more catering inquiries. For Harmonious Kitchen to become sustainable, we need to adapt to change. Thank you for your understanding.
How We Started Thursday Delivery:
In September 2019, we started delivering bento boxes primarily to Japanese companies with local offices in downtown DC every Thursday. Our sales gradually increased through word of mouth. Then, in March 2020, Harmonious Kitchen faced a tremendous challenge when COVID-19 caused DC, Maryland and Virginia to issue emergency closures for businesses, which affected several of our regular customers. Fortunately, our trusted patrons continued to order our bento boxes while they worked from home. The picture shows an empty National Mall when COVID-19 hit (March 2020).
We survived COVID-19, we are convinced that we can overcome the current challenge as well! Please let us know if you can think of anything to make us keep going so that we can continue to offer our healthy and delicious meals to you!
We look forward to hearing from you about your next meetings, parties and gatherings!
木曜日の定期配達についてのお知らせ
日頃よりご支援いただき本当に有難うございます!心から感謝申し上げます。遺憾ながら木曜日配達の注文の数が減ってきています。多くの方がオフィスでの勤務に戻られたからかもしれません。毎週、隔週と定期的にご購入いただいているお客様のためにも木曜日の配達を継続したかったのですが、ハーモニアスキッチンが持続可能となるためには環境の変化に対応していく必要がります。ご理解いただければ幸いです。
木曜日の定期配達を始めたきっかけ:
2019年9月からダウンタウンの日系企業様のオフィス向けにお弁当の定期配達を始めました。口コミで少しずつ販売数が増え始めた頃にコロナ感染対策で緊急事態宣言が出ました。一時はどうなることかと心配しましたが、お蔭様でオフィスで注文してくださっていたお客さまが在宅勤務でも継続して利用してくださったことで木曜日の定期配達が定着しました。
コロナ禍も乗り越えられてきたのですから、今回の壁もきっと克服できるはず!Harmonious Kitchenが「からだが喜ぶほっこりごはん」を継続して皆さまにお届けできるよう、どんなことでも結構です、ご指摘やアドバイスを是非お聞きかせください!よろしくお願いします。
☆ New! Harmonious Kitchen original mug. Illustration by the same Japanese artist, Chise Ushio, who did our T-shirt, face mask, and tenugui (Japanese towel). $18.85
---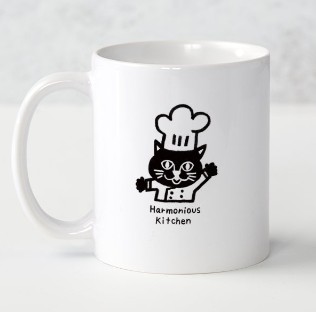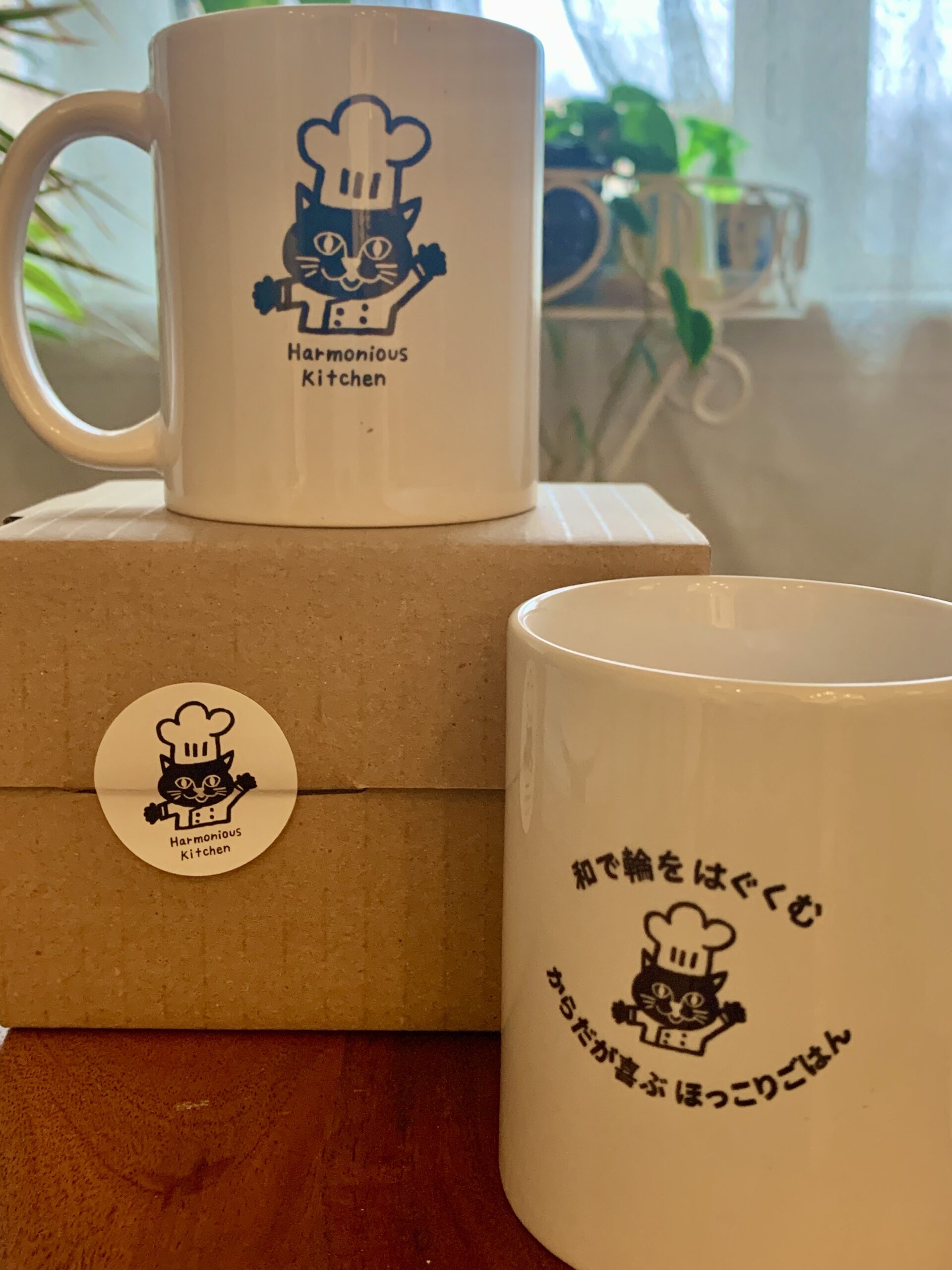 ☆ Two new video Instagram posts with narration on our two customer favorites: Curry Croquette and Unohana (sautéed soy bean pulp with vegetables). Currently only in Japanese. We are working on their English versions. Stay tuned!
Please see the following page for ordering.
https://harmonious.kitchen/menu/
☆ Harmonious Kitchen original face mask and tenugui (Japanese towel)! ☆
Made in Japan. Designed by a budding Japanese artist, Chise Ushio (https://ushio-chise.com/). She also designed our T-shirt. She listened to us and incorporated our mission well in her design for us. We love her art work. Hope you do, too!
Face

Mask

$6.59 + 6% (DC, MD, VA)

Tenugui (Japanese towel), $8.89 + 6% (DC, MD, VA)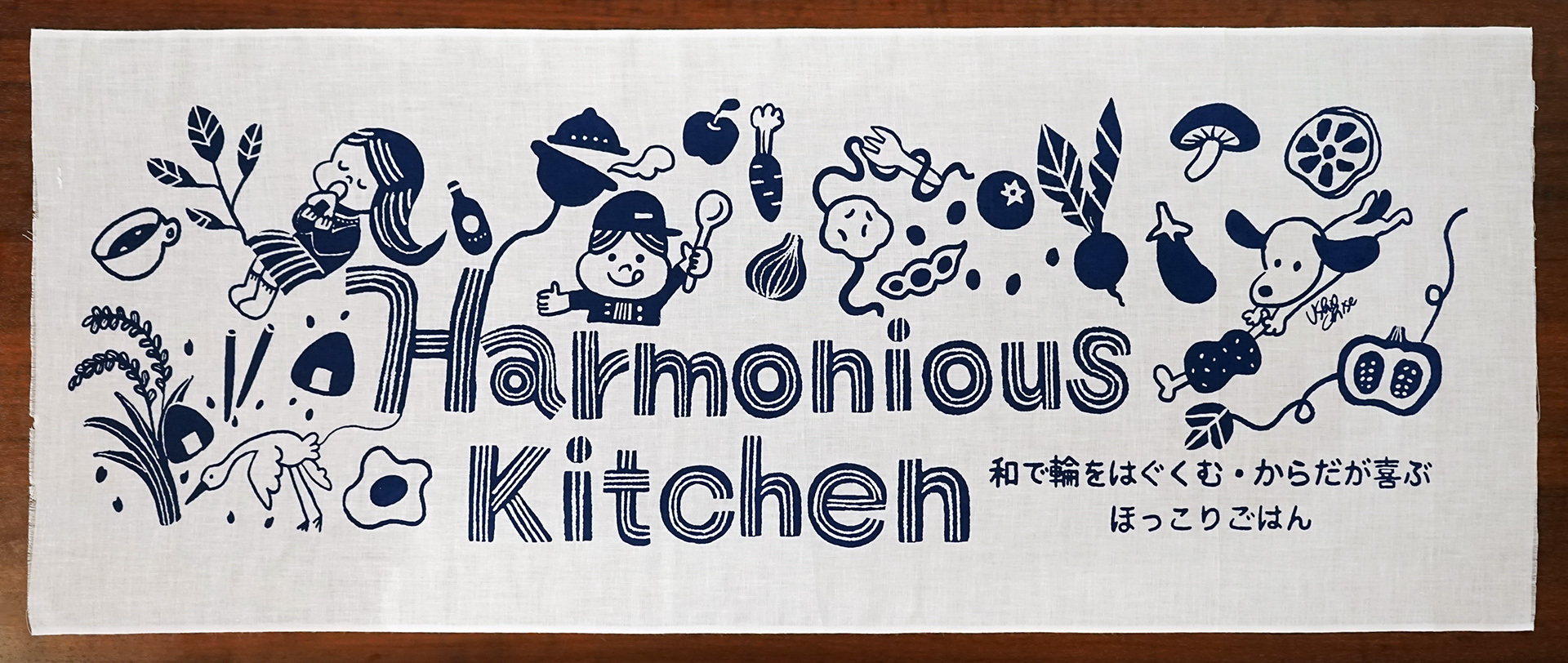 ☆ Refer-A-Friend Campaign ☆
Refer your friends to Harmonious Kitchen. When your friend places an order, we will send you a $5 discount coupon to thank you. Your friend receives a 3-flavor snowball cookie set!
https://harmonious-kitchen-online-order.square.site/refer-a-friend

☆ Harmonious Kitchen is now on Nextdoor! ☆
If you love our food, please help us by leaving a review on our Nextdoor page to let everyone else know. It will help us continue to grow and work towards even more delicious food. You have to register at Nextdoor first.
https://nextdoor.com/find-neighborhood/dc/