お知らせ Announcement
【Delivery: Bento Box Menu & Order

for Sept 29 (Thursday)

】
Two new video Instagram posts with narration on our two customer favorites: Curry Croquette and Unohana (sautéed soy bean pulp with vegetables). Currently only in Japanese. We are working on their English versions. Stay tuned!
Please see the following page for ordering.
https://harmonious.kitchen/menu/
【

Japan Day – Fall Festival 2022 in Columbia MD
】
Harmonious Kitchen will participate as a food vendor
https://www.eventbrite.com/e/japan-day-fall-festival-2022-tickets-307971740767
Oct 2 (Sun) from 3 pm – 6 pm
5885 Robert Oliver Place, Columbia, MD 231045
Come and enjoy many performances and hands-on activities to enjoy Japanese culture.
You can come in your favorite Anime character's costume, too!
It's free! Please register in advance.
【
Chevy Chase Farmers Market on Oct 8 (Sat)
】
Upcoming pop-ups at Chevy Chase Farmers Market will be 
Oct 8 (Sat) from 9am – 1pm.
Please come and see us! 
https://www.chevychasefarmersmarket.com/weekly-pop-ups
【UDC Farmers Market】
Oct 15 (Sat) from 9am – 1pm
Our 1st appearance at UDC Van Ness Farmers Market was a success!
Please come and support us!
4200 Connecticut Ave NW Washington, D.C. 20008 (Van Ness-UDC Metro Station)
Easy access by Metro Red Line
【#WoodmoorEats:  Lunchtime Drops on Sept 29 (Thursday)】
ANNOUNCEMENT
Deadline: Sept 28 (Wed) Noon
Place your order at:
https://harmonious-kitchen-online-order.square.site/
Please type

"212 Whitmoor Ter., Silver Spring"

in the address section and

use the coupon code "WoodmoorEats" for a $6 discount.
PICKUP ADDRESS
Sept 29 (Thursday) pickup
Place your order before 12pm Wed (Sept 28, Wednesday)
Pick up 12pm – 1pm at 212 Whitmoor Ter., Silver Spring
Sept 29 Contact: Rumi Clark: (541) 653-7190 (cell)
If you want If you want to cancel or change your order, please email to
harmoniouskichendc@gmail.com

☆ Harmonious Kitchen original face mask and tenugui (Japanese towel)! ☆
Made in Japan. Designed by a budding Japanese artist, Chise Ushio (https://ushio-chise.com/). She also designed our T-shirt. She listened to us and incorporated our mission well in her design for us. We love her art work. Hope you do, too!
Face

Mask

$6.59 + 6% (DC, MD, VA)

Tenugui (Japanese towel), $8.89 + 6% (DC, MD, VA)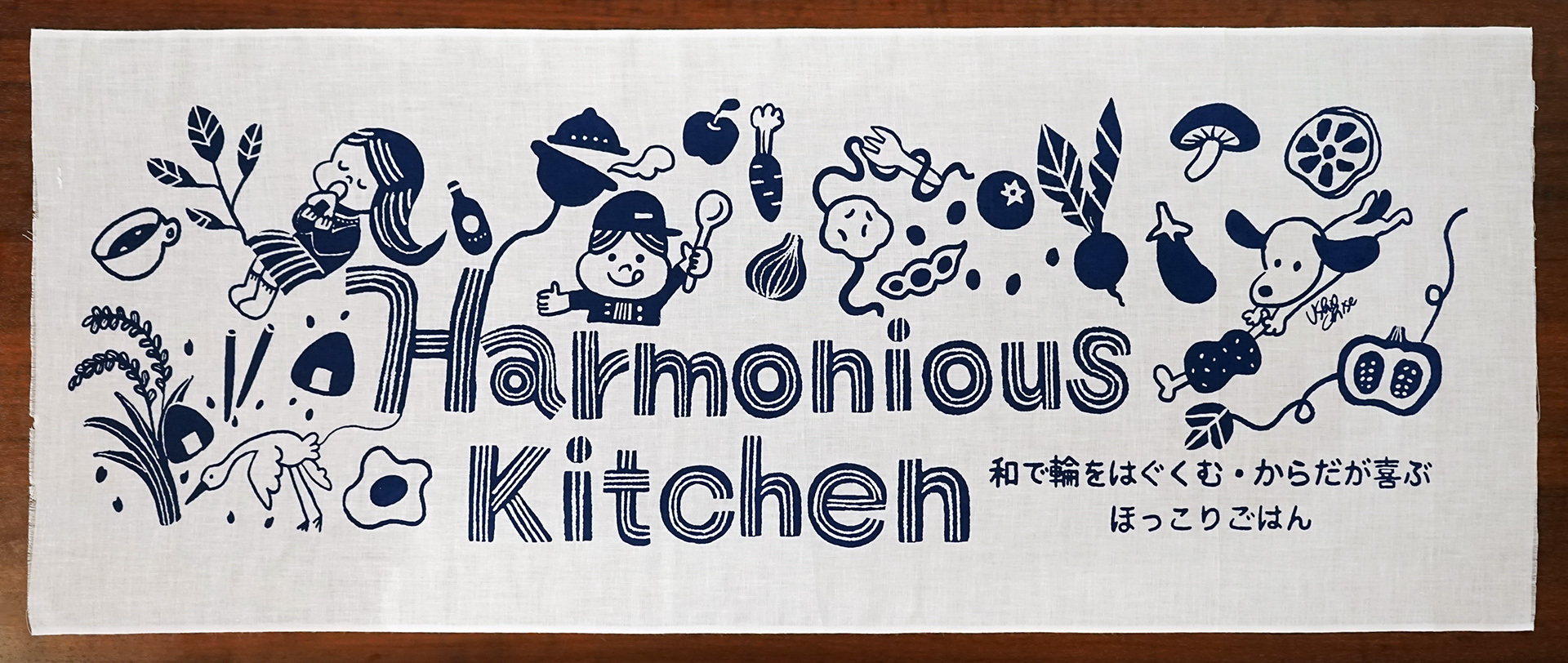 ☆ Refer-A-Friend Campaign ☆
Refer your friends to Harmonious Kitchen. When your friend places an order, we will send you a $5 discount coupon to thank you. Your friend receives a 3-flavor snowball cookie set!
https://harmonious-kitchen-online-order.square.site/refer-a-friend

☆ Harmonious Kitchen is now on Nextdoor! ☆
If you love our food, please help us by leaving a review on our Nextdoor page to let everyone else know. It will help us continue to grow and work towards even more delicious food. You have to register at Nextdoor first.
https://nextdoor.com/find-neighborhood/dc/
【サイト・リニューアルのお知らせ】
No regular Sunday pop up at Supreme Core for a while to focus on updating our website and other priority issues at hand. We still plan to hold a pop up occasionally. We will keep you posted.
ウェブサイトの更新、その他の作業を優先するため、Supreme Coreでのポップアップは当分の間お休みします。不定期に開催する予定ですので随時ご案内させていただきます。
【ポップアップについて】

No regular Sunday pop up at Supreme Core for a while.
We still plan to hold a pop up occasionally. We will keep you posted.
The following is the feedback we received:
"It sounds like Harmonious Kitchen has a lot of exciting things going on and I wish you the best with your plans! Our team will miss you at the taproom."
– Supreme Core Cider (Aug 2021)

"The staff said your food was excellent and our customers really enjoyed it. I'm really excited for our continued partnership."
– Supreme Core Cider (Feb 2021)
Supreme Coreでのポップアップは当分の間お休みします。
不定期に開催する予定ですので随時ご案内させていただきます。
以下はSupreme Core Ciderからのフィードバックです。
「ワクワクすることが沢山Harmonous Kitchenでは起きているようですね!計画が上手くいくよう頑張ってください!タップルームのスタッフは残念がるでしょうけど。」
– Supreme Core Cider (Aug 2021)

「スタッフもカスタマーもとっても美味しかったと言っていましたよ。これからのパートナーシップがとっても楽しみです」
– Supreme Core Cider (Feb 2021)